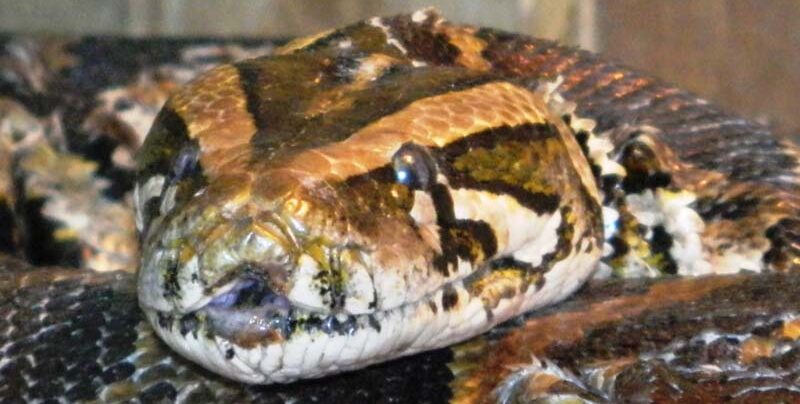 Reptiles
Our reptiles includes Crocodiles, Alligators, Snakes, Tortoises and Lizards
CROCODILES
Crocodiles do not like our winters here so we only keep young Freshwater and Estuarine Crocodiles that can move indoors for our colder months. Our Estuarine or Saltwater Crocodile is named Jasper. He was found under the driver seat in a truck that was stopped by the Police on a drug bust! He was in very poor condition and had probably never had a first meal even before they put him in the truck. He has been with us now for many years.
ALLIGATORS
We have an adult pair of Alligators, Ali and Missy. Alligators can handle our cold winters and are much more intelligent than a crocodile.
SNAKES
BURMESE PTHONS – these are a very large snake from South-East Asia. They always seem to know when the keeper is bringing food and meets her at the door!
YELLOW ANACONDA – not as large as their cousins the Green Anaconda but very pretty. Our girl has been the last one in Australian Zoos for many years, but we have managed to import a couple of boys to hopefully breed with her. Unfortunately, they are too small to go straight in with her but hopefully they will grow quickly!
BOA CONSTRICTOR – often considered a dangerous snake they are not as bad as they sound. Boris, Baxter & Betty are smaller than some Carpet Pythons. Many people would have met Boris as he used to be used for our "Meet the Snake". Now he hangs out with his friends.
TORTOISES
ALDABRA TORTOISES – We first imported 10 Aldabra Tortoises in 2013 and then another 22 in 2015 for both ourselves and many other Zoos in Australia. We now have the largest colony of them in Australia. As they can apparently live for over 200 years ours are only children at this point and breeding will be some time in the future.
RADIATED TORTOISES – Australian Zoos saved a large group of Radiated Tortoises that were confiscated in Hong Kong, over 60 were found but not all survived. They were destined to be eaten and have their shells turned into souvenirs. We were able to place eight here at our Zoo and many others were placed in other Zoos in Australia.
TURTLES
Australian Freshwater Turtles can be found in many of our ponds around the Zoo. From our Pelican & Swan ponds to our Tapir Pond, they can be seen sunning themselves on the pond edges or just the nose lifting out of the water to catch a breath.
LIZARDS
AUSSIE LIZARDS – We have Coastal Bearded Dragons, Blue Tongue Lizards & Shingleback Lizards. Many of these have been rescued from dogs, cats or car accidents, some from people who had them as pets but can no longer care for them and some have come from other Zoos.
RHINOCEROS IGUANA – Our Rhinoceros Iguana pair are very cheeky and like to steal all the Aldabra Tortoise food. The male, Dennis the Menace, keeps the keepers on their toes as he is very protective of his girlfriend.
KOMODO DRAGON – our Komodo Dragon, Balu, was imported with many others in December 2019 from Prague. Initially very shy he has bonded with his keepers and loves a pat and a scratch but he is a very fussy eater, not usually seen in Komodos.