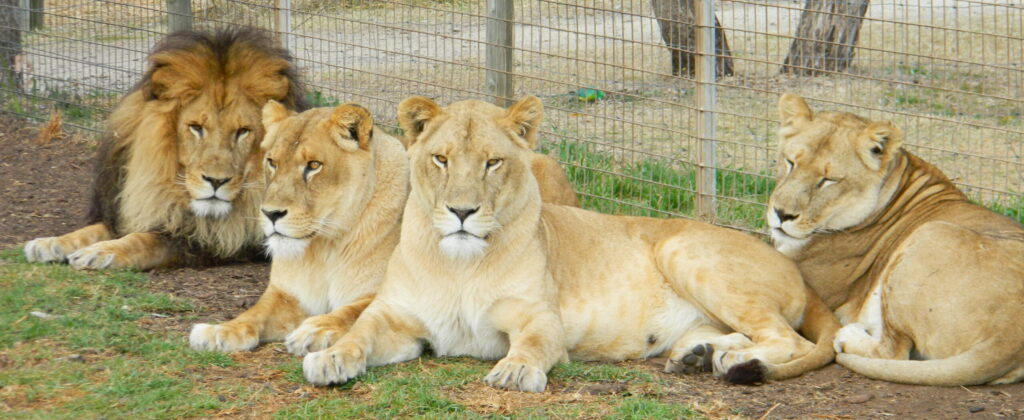 Cats
BOOK A BIG CAT ENCOUNTER
Our Big Cats are our Lions, Tigers and Leopards and our Small Cats are our Cheetah, Serval and Caracal.
BIG CATS
LIONS – We have a wide range of Big Cats as well as cats from the Small Cat Family. Starting with the King of the Jungle the African Lions! We not only have the tawny Lions but the very rare White Lions from the Greater Timbavati and Southern Kruger Park region of South Africa.
TIGER – We are part of the Australasian Captive Breeding Program for the critically endangered Sumatran Tiger. Our tigress is a shy girl a lot of the time, so you have to look closely to see her hiding under the vines.
LEOPARD – Our Sri Lankan Leopards are part of the European Captive Breeding Program. We are only the 2nd Zoo in Australia to be a part of saving this stunning species. We imported our breeding pair in October 2021 and they are doing very well.
SMALL CATS
CHEETAH – Most people think of the Cheetah as a Big Cat but they are part of the Small Cat Family. We first imported Cheetah from England and subsequently from Africa to try to establish a breeding group to support the breeding program in this region. They are a very difficult species to breed for a large variety of reasons. Join our keeper talks at the Zoo to discover why.
SERVAL – Our original Serval were older females past breeding age, however we imported 2 females in September 2021 from England after getting a male, Tafari, from Altina Wildlife Park. They didn't waste time making kittens and had one kitten born on the 14th January 2022 from one female and two kittens born on 15th January 2022 from the other female.
CARACAL – These cats are spectacular and absolutely brilliant jumpers, leaping through the air to catch birds. There were not many Caracal in Australia so we imported 2 Breeding Pairs in June 2021. They settled in very well and are not as shy as the Servals. They also did not waste time breeding and both pairs had kittens in 2022.